It's contest time.  This is the top of an anchor from the Coast Guard emblem.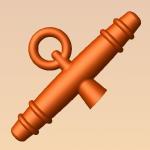 I made this with three 2 rail sweeps, all using the same profile vector.  The first person to duplicate the vectors I used to make these parts and send them to me will win their choice of any model on this site.  This contest will run until August 16, 2013 so you have 10 days to figure it out.  I will announce a winner here as soon as I have one so if you haven't seen it announced you still have a chance.  I'll post a screen shot of the vectors and a dxf file when the contest closes.
Don't ask on the forums.  This is something to figure out.  The contest will end immediately without a winner if I find someone asking how to do it on a forum.
Good luck!